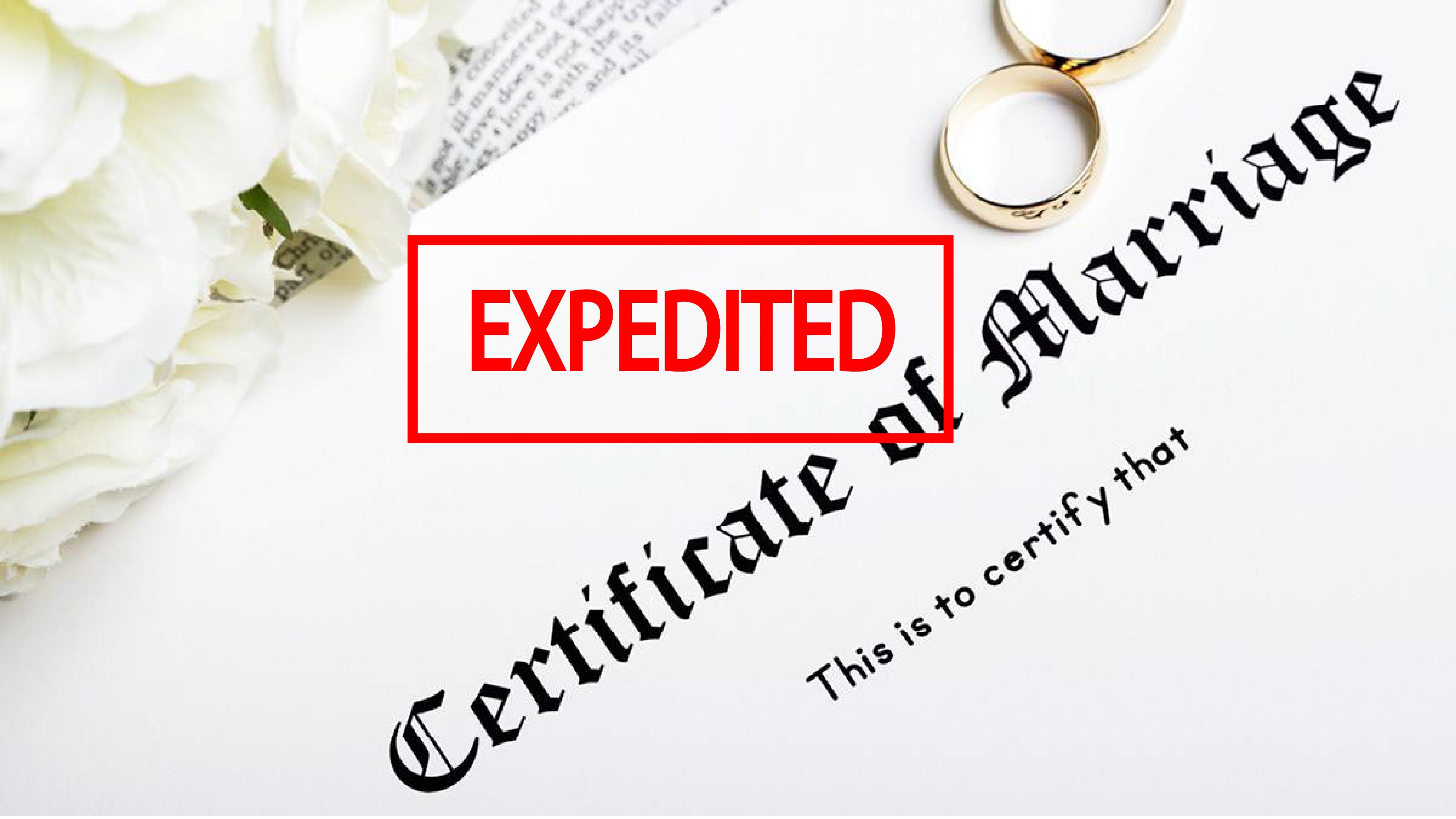 Expedited Marriage Certificate
The Certified Marriage Certificate from your Las Vegas Wedding will be ready for you to order in 10 days. After you order it, you should receive it in about a week, depending on where it will be sent to. If you need to have it sooner, we can have your Marriage Certificate Expedited and Recorded in as little as 2 hours.
Options:
$100 for 1 copy in 2 hours
$135 for  2 copies in 2 hours
$170 for 3 copies in 2 hours
$75 for 1 copy in 24 hours
$110 for 2 copies in 24 hours
$140 for 3 copies in 24 hours
This is for after you are married...
You've made it through all the wedding planning. You're married. Time to kick back and relax. Or maybe, like most folks out there, life happens. Work. School. Bills. Kids. Now is the time to think about things like name changes, insurance, banking, and more. All this legal paperwork can be very confusing! We are here to help you with all of this, whether you were married with us or not.
EVERYONE WILL NEED TO HAVE THIS DOCUMENT. ORDER THE EXPEDITED COPIES OF YOUR MARRIAGE CERTIFICATE IF YOU THINK YOU MIGHT NEED IT BEFORE THE NORMAL TIME OF APPROXIMATELY 3 WEEKS TO GET TO YOU BY MAIL.
We will hand carry your Marriage Certificate to the Clerk's office and wait on site for them to record it. Then we will purchase the Certified Copies for you. You will have the option of coming to pick it up from us or we can mail it to you.
We have two options available: (You will not need to decide on the pick-up or delivery at this time, we will get that information and payment at the time of your wedding)
 2 HOUR SERVICE. This is typically available Monday - Friday from 10:00am to 2:00pm. We can have your Certified Marriage Certificate ready for you 2 hours after your wedding. The cost is $100 for one copy.
24 HOUR SERVICE. If you get married Monday - Thursday, we will have your Certified Marriage Certificate in 24 hours. If you get married on Friday, Saturday, or Sunday then we will have your Certified Marriage Certificate ready for you on Monday by noon. If Monday is a holiday then it will be ready on Tuesday by noon. If you are not available to pick it up, we can send it to you.
The rates for shipping are as follows:
USPS Regular Mail:  No Charge
USPS Priority Mail:  $20
USPS Express Mail: $40
FEDEX overnight: $60
DHL (International): Starts at $60
This is the document that you need to prove that you are married. It is recommended that you have at least two copies at all times. One copy should be kept for personal documentation (or even framing) and you should have at least one other copy that can be used to show proof of marriage. What many people do not realize is that you will have to change your name with every agency or business. It is not a one step deal.
Here are some of the reasons why you will need to provide your legal marriage license:
DMV

Social Security

Passport

Bank accounts

Immigration

Foreign Visa

Work

Health Insurance

Medicaid

Welfare Services

IRS audit

Home Mortgage

Business venture

Adoption
These are just some of the reasons why you need your legal marriage license, among many others. You should always have a few certified copies on hand. Many times when you have to send in a copy to a government agency, it can take a few weeks for them to mail it back to you. If you do not have multiple certified copies of your marriage certificate, getting your name changed and getting your benefits will very likely be delayed and take much longer to complete. You can order your certified marriage certificate right here in one simple step.